News
May 2, 2013
by David Rives
Did you Know?
David is an avid photographer. Not only does he take astro-photography (photos of space) with his observatory class telescopes, he also enjoys taking time off while on the road to enjoy the beauty of God's creation. Below is a gallery of his photos taken a few weeks ago during his recent presentations and concerts in Oregon.
Skywatch
Shortly after nightfall between May 10th and May 30th, look for a conjunction between Jupiter, Venus and Mercury along with the Moon. This phenomena can be seen in the Western Sky.
The month of May will also bring awesome opportunities to check out one of the most spectacular planets in our solar system…The ringed planet Saturn!
Article
April 10, 2013
by David Rives
Over the past six years, we at David Rives Ministries have seen others learn and grow in the truths of the Bible, but also, we have grown–and expanded our outreach in powerful new ways.
This commentary marks the 100th video in the Heavens Declare the Glory of God series.
Some critics cannot see the importance of these creation-based messages I deliver each week.
Let me make the importance clear. We are all sinners, and no matter what path our life has been on in the past, through belief in Jesus Christ as our Savior, and repentance of our sins, we can be made new, and have the privilege of eternal life.
Jesus, Yeshua of Nazareth, was no mere man. He was and IS the Creator of heaven and earth, and the Son of God. He WAS in the beginning, and He IS forevermore.
"He was in the world, and the world was made by him, and the world knew him not… But as many as received him, to them gave he power to become the sons of God, even to them that believe on his name"
Join me in celebrating our 100th video proclaiming the Gospel and the truths of Creation to the world.
I'll see you next week,
I'm David Rives…
Truly the Heavens Declare the Glory of God.
Featured Product
BRAND NEW FROM DAVID RIVES MINISTRIES!!!
"IN THE BEGINNING – CREATION ACCORDING TO GENESIS" DVD VIDEO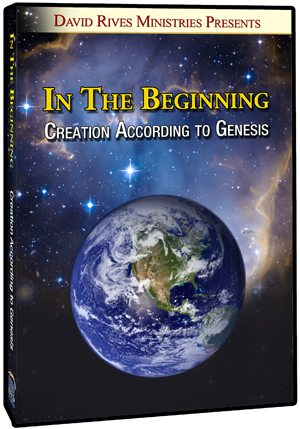 "In The Beginning – Creation According to Genesis" was recently accepted as a semi-finalist in the "San Antonio Independent Christian Film Festival" – The world's largest Christian film festival!
Filmed in High Definition, this concise and to-the-point DVD video is packed with information, relating to the account of Creation as found in the Biblical book of Genesis, (The Book of Beginnings)
PURCHASE YOUR COPY TODAY by visiting our Online Store
An inspirational and compelling DVD, "In the Beginning" reveals the contrast of many man-made theories that abound today, with what we find in the words of scripture.