NEWS: "Creation in the 21st Century" episode: "Dedication to Creation – The History and Ministry of ICR" with Dr. Henry Morris III of "Institute for Creation Research"
September 20, 2014
by David Rives
Join David Rives on Creation in the 21st Century as he welcomes Dr. Henry Morris III (CEO) of Institute for Creation Research (ICR) to talk about "Dedication to Creation – The History and Ministry of ICR" Tune in to TBN Wednesday, September 24th at 11 am CST (9 am Pacific) to see this exciting show!
CLICK HERE to purchase "Unlocking The Mysteries Of Genesis" 12 DVD Set in the Creation Superstore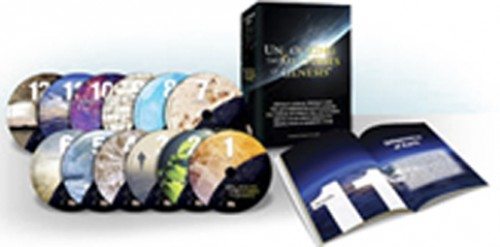 Through interviews with leading experts, on-location investigations, insights from cutting-edge research, dynamic animation, and stunning visuals, Unlocking the Mysteries of Genesis takes viewers on a memorable journey through some of the most fascinating topics in creation science. Each episode is designed around a 22-minute topic ranging from the origins of life to evolution to the age of the universe and Noah's Flood. It is accompanied by a viewer guide to aid discussion and extend learning with other suggested resources. This is a fantastic resource to use in small groups, Bible study's or as a church-wide series.
CLICK HERE to purchase "Unlocking The Mysteries Of Genesis" 12 DVD Set in the Creation Superstore for the low price of ONLY $99 + s&h
It Is Finished – The Sacrificial Offering of Calvary


Have you ever looked back on your work, or a project that you've been a part of, and said "It's finished"? Many times, we look back and think "If only I'd done this or that a little different…"
Not so with our Savior on the cross. In the Greek, it tells us He exclaimed (teTEL-a-st-iy) "tetelestai," "It is finished!"
What was finished? Perhaps we should go back to the very beginning to find that answer.
You see, we read that at the end of the creation week, God called everything "very good". In Hebrew, "tov meod". It is safe to assume that all was functioning flawlessly, just as it had been designed.
Then sin entered the world when the first man and woman, through willful disregard, disobeyed our Creator's simple command.
Immediately following that original sin, death entered into the world, when the blood of animals was spilled to fashion coverings for Adam and Eve. Literally, the first sacrifice for sin.
Throughout the Old Testament, the blood of bulls and goats set forth a pattern of prophetic significance.
What became finished or completed at that defining moment on the cross? The death that was required as payment for sin. It was a perfect sacrifice, the spotless Lamb, the Son of God.
I'm David Rives…
Truly, the heavens declare the glory of God
SKYWATCH: Last Chance for "The Whirlpool"
September 11, 2014
by David Rives
See if you can track down the Whirlpool Galaxy (M51) this week before it disappears. You'll find it just off the handle of the famed Big Dipper.