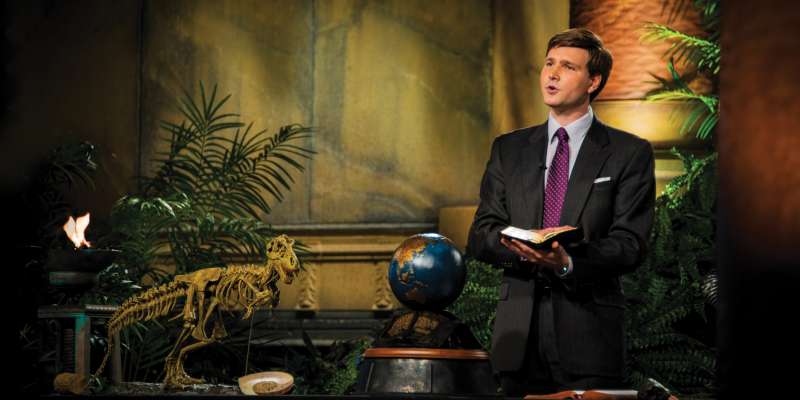 Find out what it takes to schedule an event in your area, and more about the presentation topics.
About David Rives:
"In the beginning, God created the heaven and the earth…"
The Creator left a pattern of His fingerprints across each corner of the universe, found in every crevice on earth, and imprinted in every cell of our bodies. A pattern that David Rives has devoted his life to finding and sharing… while declaring the glory of God through scientific study.
David's documented field experience in astronomy, paleontology, and archaeology has made him an in-demand speaker with expert knowledge and his powerful and inspirational delivery makes learning about Bible history and science fun and easy for audiences of all ages.
Using the ministries' observatory-class telescopes, his breathtaking astrophophotography has been featured in textbooks, scientific literature, and shown to audiences around the world. Just as the heavens declare the glory of God, David Rives is proclaiming the manifest presence of God throughout the universe, throughout our world and most especially in the lives of those who know Him.
David's weekly TV show "Creation in the 21st Century" airs to millions globally on TBN. He is a weekly news columnist on science and the Bible, and is author of the books "Wonders Without Number" and "Bible Knows Best."
Whether he's on a documentary shoot at the Grand Canyon, chasing solar eclipses in the Pacific Northwest, rappelling on the cliffs of Qumran, Israel, or digging up Dinosaurs and flood evidences in the field of paleontology, you will be on the edge of your seat learning of David's latest adventure!
One of his favorite activities is to awe audiences with the incredible accounts of discovery, Biblical accuracy, and creation-based science, and show that each person is "wonderfully made" with purpose – a biological miracle from our Designer, not a product of random chance. David appeals to some of the largest Christian church audiences in the country, but also enjoys interacting and sharing the Gospel with those who might be skeptical. He leads discovery tours, keynotes at conferences, and has a rigid filming schedule for his TV show, video series, and more.
A singer/songwriter as well with Top-40 radio hits, David's creativity allows him to approach each project he tackles with a unique perspective.
As a seasoned pro with 10 years' experience in TV and radio, David Rives is regularly available for interviews, features, film projects, speaking engagements, and more. Contact us at
booking@davidrives.com
or call 931.212.7990 to learn more.
Additional background:
Host of the award winning 2014 DVD "Refracted Glory" exploring the amazing world of hummingbirds and their design.
Creator of over 230 short video features on science and the Bible.
Host of award winning 2017 Documentary "Echoes of the Jurassic,"cataloguing the discovery of soft-tissue in dinosaur bones.
Producer of 80 DVDs in the "Wonders Without Number Video Series" and the acclaimed "Bible Knows Best" documentary, based on his most requested presentations.
Featured in over 150 episodes of "Creation in the 21st Century"
2 musical albums, "Fall Down" and "Forever"
Founder and Director of the first science TV network, "Genesis Science Network" centered around Christian and Biblical values.
Find out what it takes to schedule an event in your area, and more about the presentation topics.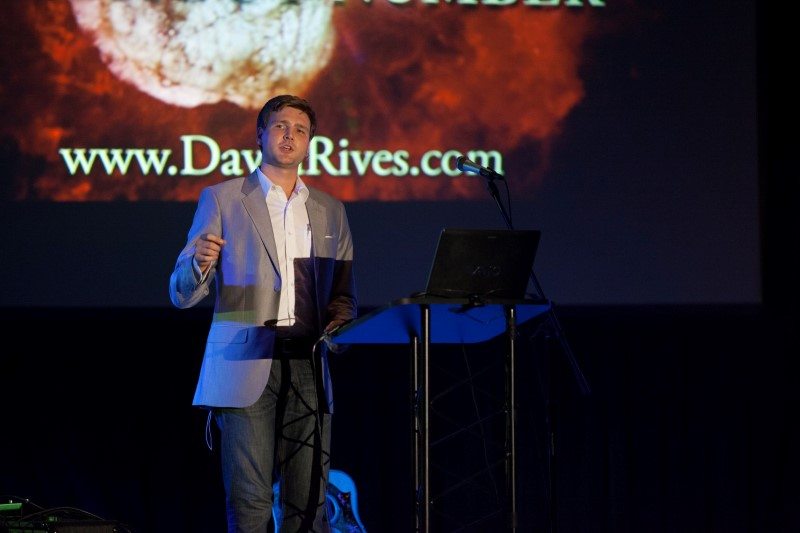 About David Rives Ministries:
Formed in 2007, David Rives Ministries is founded upon and rooted in the scriptural mandate to go into all the world, proclaiming the Gospel and the truth of God's love. We do that through awe-inspiring presentations revealing God's glory through creation science.

Recent Highlights include:
David Rives Ministries is involved in many aspects of ministry:
EXTRA:
David Rives Ministries and it's sister ministries are made up of a diverse group of people, including staff, a Board of Directors, volunteers, columnists, and more. As such, it is not affiliated with any one denomination. However, a summary of our core beliefs can be found here.
A brief history of the ministry's early years, given by David Rives

David Rives, Mobile Observatory, ministries, DVD, DVDs, books, videos, charts, sky charts, star charts, planispheres, creation, astronomy, bible, space, ministry, family, seminar, presentation, glorious, stars, universe, big bang, evolution, heavens declare, Kent Hovind, Ken Ham, CSE, Illustra Media, Jason Lisle, Dr., Vance Ferrell, Don DeYoung, moon, planets, biblical, astronomical, scripture, Creator, Jesus, Christ, Saviour, Heavens, Gospel, telescope, observatory, zodiac, astrology, comets, meteors, NASA, JPL, Hubble, creation science, Genesis, in the beginning, mass 5, mass 8, elements, hydrogen, helium, deuterium, Einstein, Isaac Newton, best selection, creation superstore, creation store, Kepler, Galileo, Special Place, Earth, ISS, Space Shuttle, Space Station, sky, skies, galaxies, galaxy, Messier, Herschel, nebula, sun, solar system, galaxies, synchronous rotation, supernova, arcturus, orion, pleiades, Job, Psalms, David, Rives, habitable zone, young earth, theistic evolution, gap theory, answers in genesis, AIG, telescope, Meade, Schmidt Cassegrain, Peltier, StellaCam 3, privileged planet, case for Christ, case for a Creator, Lee Strobel, John Rys Davies, disproving evolution,, The Heavens Declare the Glory of God
David Rives Ministries and Mobile Observatory brings you a spectacular view of creation, Biblical Astronomy, using scientific facts, Hubble and NASA photography, a Bible study on astronomy and astrology, as well as current information on our space technology.
David conducts presentations and seminars at churches, where groups get the chance to look through his giant 16″ Meade telescope, projected onto a screen.
www.davidrivesministries.org, David Rives Ministries presents a 7 minute introduction to Biblical Astronomy. An overview of David Rives' seminars and his new DVD. Extensive information at: www.davidrivesministries.org The Heavens Declare the Glory of God. David Rives Ministries and Mobile Observatory brings you a spectacular view of creation through Biblical Astronomy using scientific facts, Hubble and NASA photography, a Bible study on astrology, as well as current information on our space technology. This video clip is just a sample of the presentations and seminars David conducts at churches, where groups get the chance to look through his giant 16″ Meade telescope, projected onto a screen. Also the opening of his new DVD release "The Heavens Declare the Glory of God" www.davidrivesministries.orgastronomy creation bible space ministry mobile observatory david rives family seminar presentation heaven glorious stars An informative site containing information on Biblical Astronomy, creation and evolution discussions, astronomical news, an extensive online bookstore, space photos, and David Rives seminar schedule., IMPORTANT NOTICE: SECULAR ASTRONOMY
Save
Save
Save
Save