13 DAYS AND COUNTING!
Who's excited for the premiere of "Creation in the 21st Century" on Wednesday, January 8th @ 11:00 am CST? Tell everyone you know to tune in to TBN or set their DVRs, because this will be a dynamic and inspiring show! The first episode will be: "Create In Me A Clean Heart" and our special guest will be Dr. Chuck Thurston.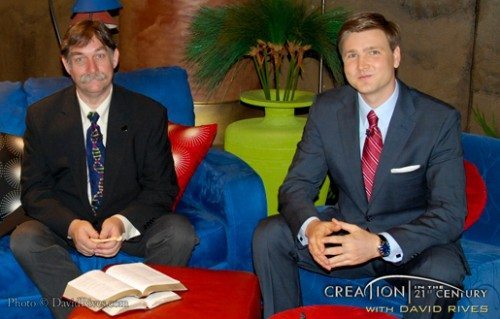 David Rives and Dr. Chuck Thurston go over last minute battle plans for the dynamic pilot episode of "Creation in the 21st Century". There's no better rule book than the Holy Bible!
David will give a presentation THIS Friday night, December 27th for Lamb WEST at Sylvan Park Freewill Baptist Church in Nashville TN. If you're in the area, please join us at 7:00 pm. We have been so blessed this year! Yesterday was spent with some very good friends, The Waggoners, who will be leading worship on Friday night.