Tune in to TBN (Trinity Broadcasting Network) this Friday, Mar. 11th @ 5:30PM CST (3:30 PM Pacific) to watch "Creation in the 21st Century." Join David Rives and Russ Miller in this exciting episode of Creation in the 21st Century. You're probably asking yourself: "What does 'leaven' have to do with the subject of Creation?" Russ Miller and David Rives answer this question and a lot more, as they reveal just a few examples of 'leaven' (unproven theories) found scattered throughout much of today's public school material.
If you watched the program and want related material, we have an awesome DVD series that covers the same material discussed on the TBN Show. Just click the photo and links below to go to our store.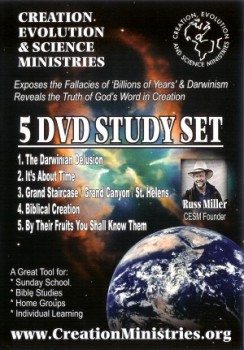 CLICK HERE to check out "Russ Miller's 5 DVD Set" in the Creation Superstore
Everything Russ Miller has ever shared is gathered into this set!
This updated and revised edition includes new teachings by Russ Miller on Public Schools, Prophecy concerning Creation, Grand Canyon and Grand Staircase information. The DVD set includes all five of the CESM "series" DVDs and the following seminars:
The Theft of America's Christian Heritage
Science vs. Darwinism in the Textbooks
Public School Menticide
The Foundations – why "Creation" matters
An Old Earth or a Global Flood
Noah's Ark and Dinosaurs
What Scripture Says about Creation
FAQs on the Age-of-the-Earth
Facts Compared to God's Word
Microscopic Man – Astronomical God
FAQS on Biblical Creation and Darwinism
Block One Studios Award Winning Grand Canyon Film
The Six-Day Formation of Grand Canyon and Grand Staircase
On the Rim with Russ
The Evil Fruit of Old -Earth Beliefs
False Christ Shall Arise
This Russ Miller collection is loaded with shocking and eye-opening information, that glorifies God and the TRUTH of His Scriptures!
BUY TODAY from our store…
Call 931-212-7990 to order this compelling DVD set