Tune in to TBN (Trinity Broadcasting Network) THIS Friday, September 16th @ 5:30pm CDT (3:30pm Pacific) to see this week's episode of "Creation in the 21st Century." Join David Rives (host) as he welcomes Dr. Robert Carter to the program titled: "Age of the Earth".

If you watched the program and want related material, just click the photo and links below to go to our store.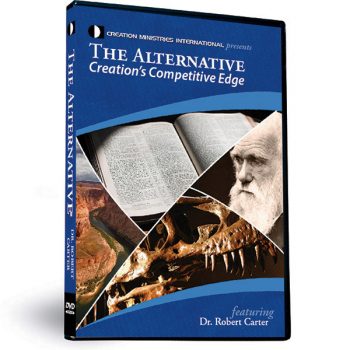 CLICK HERE to check out "THE ALTERNATIVE – Creation's Competitive Edge" DVD in the Creation Superstore
Do you want to reach your culture with the gospel? Then you'd better be prepared to give them an ALTERNATIVE! – In, The Alternative: Creation's Competitive Edge DVD. There are sound credible answers to evolution, the most common excuse used to reject the Bible today, but most people haven't heard them yet. The biblical worldview, including a 6-day creation event only 6,000 years ago, is a strong defendable scientific alternative! Get equipped and defend your faith against some of the most pressing excuses for rejecting Christianity in this informative, illustrated presentation. (High School–Adult) 47 min
Call 931.212.7990 to order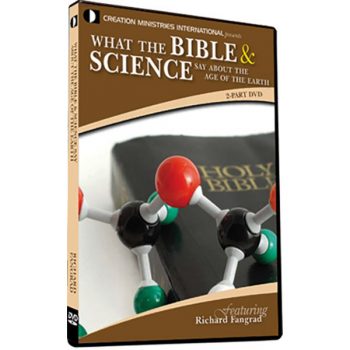 CLICK HERE to check out "WHAT THE BIBLE & SCIENCE SAY ABOUT THE AGE OF THE EARTH" DVD in the Creation Superstore
What the Bible & Science Say About the Age of the Earth DVD summarizes some of the arguments for a young earth from both the Bible (part 1) and science (part 2). In his usual easy-to-understand style Richard Fangrad summarizes the main arguments for a young earth from both the Bible and science. This presentation includes:
a detailed examination of the word 'day' in Genesis 1
a refutation of the 'Gap Theory' straight from the original Hebrew
a summary of the theological consequences of adding 'millions of years' to the Bible
an explanation of the assumptions involved in radiometric dating methods that make it wildly inaccurate
a look at scientific dating methods that do not support the evolutionary timescale
Great for anyone wanting to resolve the 'age of the earth' controversy biblically and scientifically.
Call 931.212.7990 to order