Lewisburg, Tennessee – Thursday, January 3rd at 7pm Central! Great for all ages! FREE ADMISSION
Bring family, friends, church groups and homeschool groups for a special WORLD PREMIERE of "Amazing Animals of Alaska" at the David Rives Ministries – Wonders of Creation Center in Lewisburg, TN.
Wonders of Creation Center
1240 S Ellington Pkwy
Lewisburg, TN 37091

January 3rd 7PM
As a part of this event you will get to meet all of the personalities of this film including:
1. Dr. Jobe Martin, former dentist for the Presidential flight crews of Air Force One
2. David Rives, host of Creation in the 21st Century on TBN each week, and producer of this Alaska documentary
3. Buddy Davis, Singer/Songwriter and adventurer
4. Dr. James Johnson, lawyer and PhD in Divinity from Dallas, TX
5. Micah Bowman, Professor at Pensacola Christian College, FL
Call 931-212-7990 for directions or more details about this exciting premiere.
Treasures — what is their significance? They add joy and delight to our lives, are valued for their beauty and design, studied for their complexity, and appreciated for how they enhance our world. God's Living Treasures are His amazing and beautiful living creatures!
Just a few of the remarkable animals and topics included in the Premiere:
The Moose is the second most dangerous animal worldwide
The Fox uses Earth's magnetic field for direction
The Wolf can survive in -40 degree temperatures
The Aurora Borealis (Northern and Southern Lights) are a great example of God's hand of protection over this planet we call home
The Sea Otter is designed with flaps in its' nose and ears that close when this creature is underwater
The Polar Bear's hair is transparent and reflects light making it appear white to the human eye
Come join us for the GLOBAL PREMIERE!

And a BONUS duet performance with top 40 Christian-Country artist David Rives and renowned bluegrass/gospel singer Buddy Davis is planned. Come early. You won't want to miss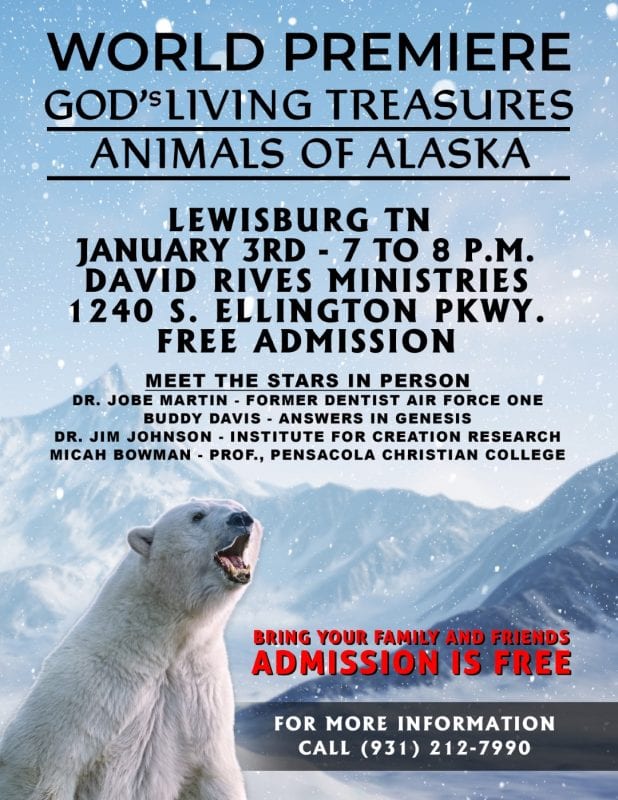 Detailed Bios
Jobe Martin, a native of Bloomsburg, PA, was a biology major at Bucknell University and a 1966 graduate of the University of Pittsburgh Dental School. After spending two years in the Air Force, he established a private dental practice at NASA in Houston. Jobe and his wife, Jenna Dee, moved to Dallas in 1971 when he assumed a teaching post at the Baylor College of Dentistry. In 1982, he made the decision to enroll at Dallas Theological Seminary. He graduated in 1986 with a Masters of Theology in Systematic Theology. Dr. Martin also has an Associates Degree in Business from Eastfield Community College in Dallas. Dr. Jobe Martin has spent the last twenty years studying the topic of Biblical Creation vs. Evolution, and lectures frequently on the subject. He began his scientific career as a dentist, and a believer in Darwinian evolution, as he had been taught in numerous courses in high school, undergraduate school, and dental school. Some of his Christian students at the Baylor College of Dentistry challenged him to prove to them that evolution was a correct, complete and accurate explanation for the origin of the earth and all of its abundance of unique life forms. As Dr. Martin studied the topic in order to educate these students in evolution, he began to see that most of the world is heavily indoctrinated from their earliest education to believe in an earth that was created billions of years ago in the Big Bang, and life which evolved from non-life. Yet in reality there is very little scientific evidence to back up this version of origins. Over the course of the next decade, Dr. Martin became an expert on the subject, and has uncovered countless pieces of evidence that the Big Bang, evolution of life from non-life, and an earth billions of years old are simply not factually provable, and are in fact, somewhat incredible. As president of Biblical Discipleship Ministries, Jobe is a frequent speaker on topics such as "Creation vs. Evolution", "Marriage and the Family", "Discipleship", "Biblical Prophecy", and "The New Age Movement".
Buddy Davis is a popular speaker, singer, songwriter, author, adventurer, and paleo-artist with Answers in Genesis. Buddy has sculpted over 60 dinosaur models, many of which are featured at the Creation Museum. He has recorded over a dozen CDs and frequently performs concerts at the Creation Museum.
Dr. James Johnson serves ICR's Christian education programs (including ICR's School of Biblical Apologetics, Origins Matter Short Course series, and ACSI lectures). Previously he taught for LeTourneau University, Dallas Christian College, and Concordia University Texas (history, ethics, biosciences, ecology, apologetics, evidence, law, and international studies). Dr. Johnson's forensic science background includes a J.D. (University of North Carolina, 1984), trial attorney and judicial experience, two post-doc certifications, and American Academy of Forensic Sciences membership. As a paternity establishment officer (certified by the Texas Attorney General's Office), he has provided expert testimony in court proceedings, as well as biogenetic family history analysis used to change Texas birth certificates. Dr. Johnson's biblical studies background includes biblical languages study (American Bible Society Award, 1982, mostly for Hebrew and Aramaic), a Th.D. (Emmanuel College of Christian Studies, 1996), ACSI credentials, and service as a Protestant chaplain (BSA, National Capital Area).
Micah Bowman's specialty is in the subject of Biology. He earned a B.S., from Pensacola Christian College and a M.S., from the University of Nebraska, Kearney.
David's world travels and research has made him an in-demand speaker with an abundance of knowledge and his powerful and inspirational delivery makes learning about Bible history and science fun and easy for audiences of all ages. His weekly TV show "Creation in the 21st Century" airs to millions globally on TBN. He is a weekly news columnist on science and the Bible, and author of the books "Wonders Without Number" and "Bible Knows Best." Featured on the History Channel, DirecTV's NRB Network, WND, TBN, James Dobson's FamilyTalk , and heard on radio, David's exciting life and world travels are documented on his ministries' active Facebook page with over 115,000 active followers.