Tune in to TBN (Trinity Broadcasting Network) this Friday, Feb. 5th @ 5:30PM CST (3:30 PM Pacific) to watch "Creation in the 21st Century." In this 30 minute program, you'll marvel at a hummingbird's unique skeletal, muscular, and metabolic systems all vital to its spectacular aerial acrobatics. You will also learn about the endurance and navigational abilities of an Arctic tern as it travels from pole to pole during the longest migration on the planet. Join David Rives and Dr. Paul Nelson in this week's exciting episode of "Creation in the 21st Century."
If you watched the program and want related material, we have a DVD series that cover the same material discussed on the TBN Show. Just click the photo and links below to go to our store.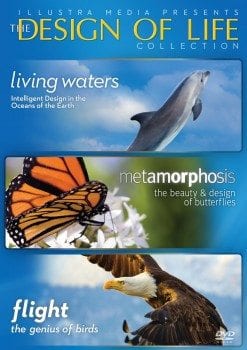 CLICK HERE to check out "The Design of Life 3 DVD Collection" in the Creation Superstore
Introducing The Design of Life 3-DVD collection of the internationally acclaimed documentaries, Living Waters: Intelligent Design in the Oceans of the Earth, FLIGHT: The Genius of Birds, and METAMORPHOSIS: The Beauty and Design of Butterflies.
Living Waters, FLIGHT, and METAMORPHOSIS are the first three volumes of the new series, The Design of Life. Together, they explore fascinating evidence for intelligent design, while confronting the myth of Darwinian evolution that has long dominated the scientific establishment. The Living Waters, FLIGHT, and METAMORPHOSIS 3-DVD Set is available in DVD and Blu-ray. Both formats include English subtitles, Stereo and 5.1 Surround audio.
Call 931-212-7990 to order.