This week we have some VERY exciting news and developments that we want to share with you. After all, you, our friends and supporters are an important part of the success that we have had in spreading the Gospel and the message of Creation to a global audience. THANK YOU!
Now for the news…
David Rives is now the host of a weekly 30 minute television program on TBN — "Creation in the 21st Century"
As a part of the programs, David is welcoming the world's leading Creation scientists and speakers as they present evidences confirming the truths of the Bible.
David returned from Dallas last Sunday after an awesome week in the studio, taping 14 dynamic new episodes.
The latest episodes are now in post-production and we are very excited for airing to begin this Fall! We will give everyone an update when exact air dates and times become available.
While David was working at the International Studios, he had the unexpected privilege to be on "Behind The Scenes" with Dr. Paul Crouch and Matt Crouch.
Please click the picture below to watch this episode of "Behind The Scenes" (which has already aired at least 3 times in the past week)
Click Here to watch "Behind The Scenes"
with David Rives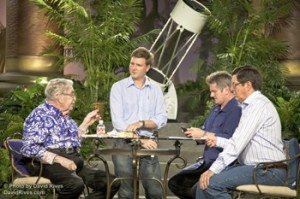 "Creation in the 21st Century" is also on Facebook! Go 'LIKE' and SHARE the page to get the latest updates on what's going on with show.
We will also be posting air dates and times for the program on the page each week. 'LIKE' our page and gain access to exciting behind-the-scenes photos of the process that goes into bringing you these programs every week.
Again, we would like to say thank you to everyone who has been a part in making this awesome opportunity a reality. We really appreciate your help and support!