AIRDATE: January, 20th, 2018
Join David Rives as he welcomes Bryan Osborne to the program. Do Animals Evolve? Do we observe changes within animal kinds? Do we see any animals evolving into new kinds today? Let's define evolution today and learn the TRUTH – Does it fit with Biblical history? Or are you REALLY kin to the monkeys? Find out the answer, on this week's episode of "Creation in the 21st Century"
If you watched the program and want related resources, just click the photo and links below to go to our store. The DVD below features Bodie Hodge of Answers In Genesis giving the same presentation that was presented by Bryan Osborne on the "Creation in the 21st Century" program.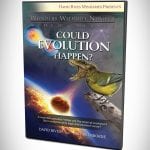 CLICK HERE to check out "COULD EVOLUTION HAPPEN?" DVD in the Creation Superstore
Is evolution possible? What are the steps of evolution? Does evolution defy logic and common sense? Do we observe changes within animal kinds? Is there observable proof of any type of evolution? Let's define evolution today and learn the truth.
Length: 30 Minutes
Buy this DVD from the Creation Superstore

Call 931-212-7990 to order.