Hello Friends,
It has only been 8 months since the premiere and first public screening of "Refracted Glory." This amazing film about Hummingbirds, that I was privileged to host, has definitely proven to be a powerful tool in presenting the truth of Creation to the world! As most of you know, each week I host "Creation in the 21st Century." This 30 minute program can be seen on TBN each Wednesday. Our Creator has allowed me to interview some amazing guests on the show, and this week's guest is no exception. This week, I will be joined on the set by Benjamin Owen, the producer of "Refracted Glory / Marvels In Every Way."
Benjamin and I will be sharing stories of the exciting process that went in to producing this film, and showing clips from this exciting documentary. We all know that Hummingbirds were created by God, in the beginning, but just how 'marvelous' are these little birds? I invite you to tune in Wednesday, May 6th at 11 am CST (9 am Pacific) to find out! After the show, come on over to our online store, and pick up your very own copy of "Refracted Glory / Marvels In Every Way" If you are in awe of these tiny creatures, then you will absolutely LOVE "Refracted Glory"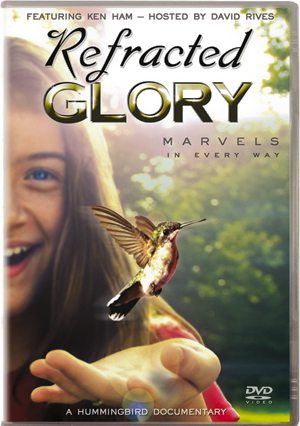 CLICK HERE TO GET "Refracted Glory / Marvels In Every Way"
IN THE CREATION SUPERSTORE!
This feature length documentary takes the viewer on an awe-inspiring journey into the many wonders of a Hummingbird. You will be amazed as you learn of the intricate mechanisms of the smallest warm-blooded creature, that could only have been designed by the Creator of the entire Universe, our Lord and Savior, Jesus Christ.
Thank you all for being a part of the efforts of this ministry. May you be richly blessed!
God Bless,
David Rives
"The heavens declare the glory of God…" Psalm 19:1