Join David Rives as he welcomes Bodie Hodge to the program. Dragons may not be around today for the same reasons that other animals go extinct-changes in environment, food issues, hunting by man. Let's face it, most legends end with a dragon's death. But their memory lives on.
If you watched the program and related material, just click the photo and links below to go to our store.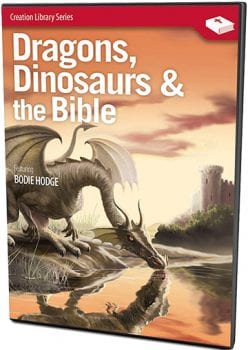 CLICK HERE to check out "Dragons, Dinosaurs and the Bible" DVD in the Creation Superstore
Format:

DVD

Length: 59 minutes
Technicality: Layman
Ages: 12 and up
What about all of those old dragon legends and petroglyphs (cave drawings and etching of creatures that look like dinosaurs)? This dynamic DVD will excite viewers, regardless of their age level, to look at this topic from a biblical viewpoint. And, it will challenge non-Christians as to the evidence regarding dinosaurs and dragons. This DVD is a must for almost every age!
BUY TODAY from our store…
Call 931-212-7990 to order this compelling DVD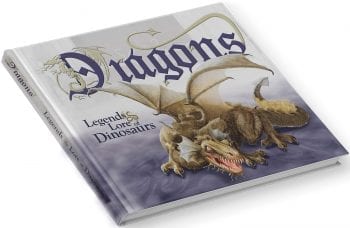 CLICK HERE to check out "Dragons: Legends & Lore of Dinosaurs" Book in the Creation Superstore
Dragons: Legends & Lore of Dinosaurs is a fascinating presentation on dragons and their biblical connection will shed light on the truth of their existence and connection to the last living dinosaurs. Powerful, fire-breathing, fantastic beings that have left their legacy on this world and can now only be found in the pages of ancient texts. Could these creatures in fact be dinosaurs? This book is a juvenile nonfiction enjoyable for all ages! This book takes you back to the days of these amazing creatures. It shows the presence of dragons in various cultures including Asia, the Americas, and Europe. Read of thrilling historical battles between dragons, and saints, and their ability to terrorize medieval castles. Mystical fantasies are brought to life, as the truth is revealed. This book is case-bound and beautifully presented using original illustrations, envelopes, fold-outs, gate-folds, and more! 24 pages and 11 spreads of substantial quality, unique content! Overall this book is a must-have for your children's creation science library. Especially if you have children who like dinosaurs.
This book was a finalist in the 'Children's Religious' Category of the USA Book News "Best Books 2011" Awards
Details for Dragons: Legends & Lore of Dinosaurs
Format: Hardback picture book
Page Count: 22
Audience: Children
BUY TODAY from our store…
Call 931-212-7990 to order this compelling Book