Dear Friends,
It was pouring rain here for the eclipse… But you all responded OVERWHELMINGLY with photos and your experiences. Thank you all so much for the awesome photos that you shared with us of last week's total lunar eclipse! Check out the photos sent in from across the continent by clicking here.
Thanks,
David
CREATION IN THE 21ST CENTURY
Creation in the 21st Century did not air this week on TBN, due to special programming. So CLICK HERE to view our latest episode online: "No Time For Itching Ears"
THE CREATION SUPERSTORE
This week, we are VERY excited to make another announcement – the Grand Opening of David Rives Ministries' CREATION SUPERSTORE!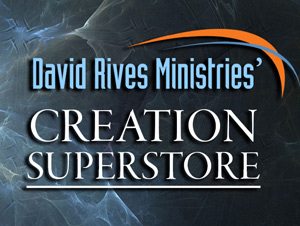 Ever feel overwhelmed and confused about which Creation based resources are right for you? Do you wish there was "one-stop shopping" for all things 'Creation'? If you answered 'YES' then "The Creation Superstore" is the place that YOU have been looking for!
Bringing a wealth of resources from the world's leading Creationist ministries straight to your fingertips, "The Creation Superstore" is THE premiere online real estate for ALL things Creation.
Don't see one of your favorite DVDs or books there? Please tell us! Our new site is quickly growing to be the largest online Creation catalog.
Thank you again for being with us as we grow to reach more and more people with this important message.