Watch a short video on the impact that this ministry is having on the world.
Thank you for your interest in helping with our ministry. By way of your contributions and prayers, you are taking part in spreading the Gospel through the truths of creation, to a world that is perishing.
TAKE ACTION
David Rives Ministries is a non-profit, Tax Exempt 501(c)3 organization, and as such, contributions are tax deductible (to the fullest extent allowed by law).
Use the form provided to give. Or, you can donate via Credit/Debit Card by calling us, day or night:
Call 931-212-7990 to make a contribution
or mail to: David Rives Ministries – P.O. Box 2824 – Lewisburg TN 37091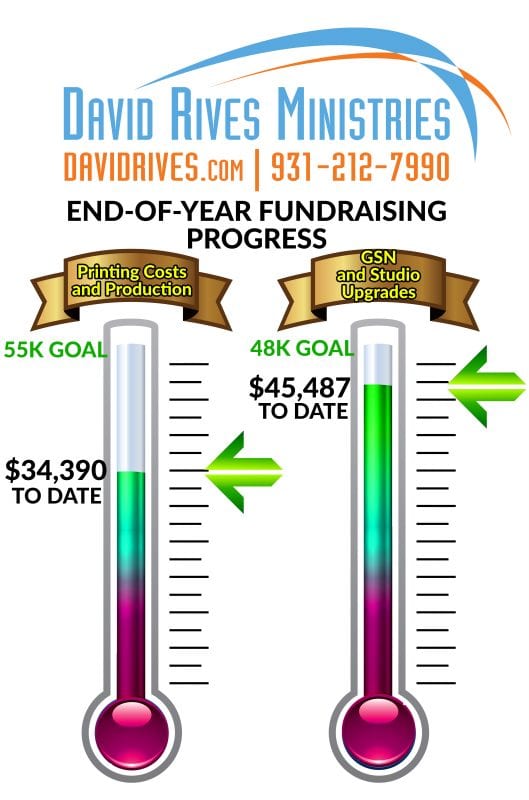 We are told in the book of Malachi, that if we take part in the growth of heavenly things, our Father which is also in Heaven, will take care of our needs abundantly.
"Bring ye all the tithes into the storehouse, that there may be meat in mine house, and prove me now herewith, saith the LORD of hosts, if I will not open you the windows of heaven, and pour you out a blessing, that there shall not be room enough to receive it." …Malachi 3:10
We are very excited about getting the opportunity to spread the Word to the ends of the Earth, and hope you will prayerfully consider taking part in this endeavor. Our purpose is to do everything possible to bring glory and honor to the Creator of all things, our Messiah, Jesus Christ.
David Rives Ministries is involved in many aspects of ministry that you can help support:
The Creation Club – A Place for Biblical Creationists to Share and Learn | Containing thousands of user-contributed articles on science and Scripture
Genesis Science Network – 24/7 Free TV Channel, a massive undertaking and the only one of its kind.
Live Presentations – Inspirational Speeches – Educational Seminars
Wonders Without Number DVD Video Series – 100 titles and growing
Creation in the 21st Century – Weekly TV program on TBN hosted by David Rives | World's largest television show on Biblical Science – Reaching 100's-of-millions of homes across the globe.
Creation Superstore – Largest origins-related store with over 1,000 products
Genesis Science Minute – 60 second radio short feature, distributed to growing number of Christian radio stations.
Wonders of Creation Center – Creation museum located in Lewisburg, TN
YouTube ministry with over 230 short videos on science and the Bible
Documentaries – DRM has participated in a number of award-winning documentaries. Titles include: "Refracted Glory", "In the Beginning", "Echoes of the Jurassic", "Bible Knows Best", "God's Living Treasures, Animals of Alaska" and more.
David Rives' Music Ministry: Music video "The Evolution Song" – Top 40 Inspirational Country hit: "In His Hands" – Albums include "Forever" and "Fall Down"
Weekly columns and contributions reaching millions
Facebook and social community over 100,000 strong!
Books including "Wonders Without Number" and the popular evangelism booklet "Bible Knows Best"
International Article Translation:
One of the current goals of David Rives Ministries and Mobile Observatory, is to have our material translated into multiple languages. We are finding that individuals in other countries have a great desire to learn the truths of the Bible. We have already received offers from volunteers who can help us with this task. As we receive help with each language, we will list the volunteer's name beside the corresponding language. If you can translate just one article, or a single page, your help will still reach thousands who may never learn of the glory of our Creator, because of language differences.
German – DVD Translation Complete – Special thanks to Dr. Peter Kallert
Russian – DVD Translation Complete – Special thanks to CNL Network
French – Under Way – Special thanks to Jean-Claude Chevalme
Portuguese – Article Translation – Special thanks to Mariza Regina de Souza
Spanish – Article Translation – Special thanks to Dr. Michael Bonilla
Ukrainian – DVD Translation Complete – Special thanks to CNL Network