Since January 8th, 2014 millions of lives have been reached through the weekly show that I host on TBN, "Creation in the 21st Century." God has truly me and the ministry that He has called me to with this amazing platform to share the truths of Creation with the world. This outreach has opened countless doors for us to continue bringing a message of hope and purpose to a world in great need.
You are a major part of the success that ministry is having, and I want to thank you so much for standing with us in sharing the Gospel and declaring the glory of God through science and the Bible.
If you would like to become a monthly financial partner with us please let us know by using the link below. Thank you and God bless you for your support!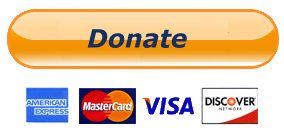 This Tuesday I am headed back out to Dallas, TX where I will be taping another series of 18 episodes of "Creation in the 21st Century." I will be joined on set by guests including Mike Riddle of "Creation Training Initiative", Dr. Jonathan Sarfati of "Creation Ministries International" and Dr. Nathanael Jeanson of "Answers In Genesis."
Please remember to keep us in your thoughts and prayers that all things will go smoothly during this entire process and trip and that He will give us great favor with everyone who is involved in this endeavor.
Thank you again for your support and for sticking with us on this incredible journey!
God bless you!
David