Tune in to TBN (Trinity Broadcasting Network) THIS Friday, August 12th @ 5:30pm CDT (3:30pm Pacific) to see this week's episode of Creation in the 21st Century. Join David Rives (host) as he welcomes Dr. Terry Mortenson to the program titled: "Millions of Years"
If you watched the program and want related material, Just click the photo and links below to go to our store.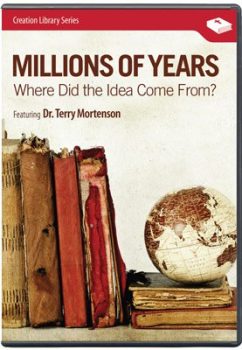 CLICK HERE to check out "Millions of Years – Where Did The Idea Come From" DVD in the Creation Superstore
Where did the idea of millions of years come from?
In this update of Dr. Terry Mortenson's most popular presentation, he introduces the men and the theories that helped popularize the idea of millions of years of earth history.
Using high-quality illustrations, Dr. Mortenson races through the last century and a half to reveal that what one believes about the age of the earth is a worldview issue of foundational importance! Viewers will understand that the issue is not science vs. religion but anti-Christian ideas vs. the clear teaching of Scripture.
With a summary of some of the many godly Christian leaders over the past 150 years who have compromised with millions of years, Dr. Mortenson gives a critically needed historical context for understanding why the authority of Scripture is so undermined in the Church today and how this relates to the proclamation of the gospel. Great for teens and adults, especially pastors.
Buy "Millions of Years – Where Did The Idea Come From" DVD from the Creation Superstore

Call 931-212-7990 to order.