SPECIAL ANNOUNCEMENT!
We all know that everyday is a blessing from our Creator and Savior Jesus Christ. However, this day comes with an added bonus for us…
Today, David Rives' exciting new book:"WONDERS WITHOUT NUMBER" IS NOW OFFICIALLY RELEASED!!!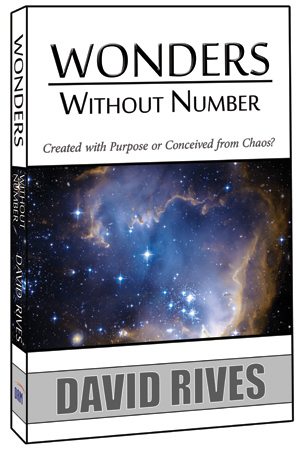 In this thought provoking book with over 160 photos, diagrams, and star charts, David builds a solid case for Jesus Christ, the Creator, while affirming the truths of the Biblical Record.
This book provides the reader with a powerful defense strategy when faced with the unproven theories of evolution.
"Wonders Without Number" covers a broad array of topics relating to the ongoing Creation/Evolution debate. It will inspire you to boldly stand on HIS Word, against the attempts to break down the very foundations of our faith.
CLICK HERE TO PURCHASE YOUR COPY NOW!
The pre-orders have all been filled, and we look forward to receiving your reviews and comments.