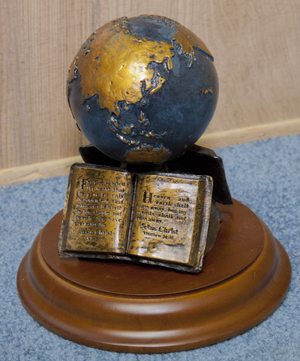 We would like to take this opportunity to thank friends and supporters of David Rives Ministries and the ongoing efforts to proclaim the Gospel to all nations. Over the past 5 years, we have literally been able to reach a worldwide audience with the message of Creation and Biblical astronomy. Each of you has made that goal a reality.
For those of you who wish to be a part of the continuing efforts of David Rives Ministries, we would like to show our appreciation with a very special gift that we have just been able to make available.
Anyone sending a love offering of $150.00 or more to David Rives Ministries will receive a copy of a beautifully hand-crafted sculpture of God's special Earth.
————————————-
Message from David:
This sculpture in particular is special to me, because of the significance of our planet. We know from scripture that Earth was created to be inhabited. It was so special that God sent His only Son to Earth.
This breathtaking artwork renders our special Earth surrounded on either side by the Holy Bible. The Bible is open to encouraging passages of scripture engraved into the pages, which relate the message of salvation and "The Great Commission."
Please consider supporting our efforts. We have been an encouragement to so many people through this ministry, and we would like to multiply those results as we move forward in a powerful way.
David Rives
'The Heavens Declare the Glory of God'
————————————–
Crafted by renowned sculptor Max Greiner Jr. and mounted on a handsome tapered walnut base, this fantastic conversation piece measures 6 inches tall and is sure to become a great addition to your art collection.
If you would like to be a blessing to this ministry, please consider this opportunity to support David Rives Ministries and receive one of these beautiful pieces, along with a signed copy of David's DVD "The Heavens Declare the Glory of God".
Again, anyone giving $150 or more will receive a free sculpture and signed DVD.
You can donate online HERE, or over the phone at (931) 212-7990.
You can also mail your check to David Rives Ministries – P.O. Box 2824 – Lewisburg, TN. 37091
We are a non-profit 501c3 organization and your contributions are tax-deductible.
GIVE NOW